As part of my ongoing concussion recovery, I'm teaching myself to read again, an activity that I always found so joyful before and now find so daunting. I am generally re-reading. It's easier, what with my memory the way it is now. Anyway, the trivialities of my self-initiated treatment plan aside, what better book to re-read than Anne Fadiman's Ex Libris; Confessions of a Common Reader.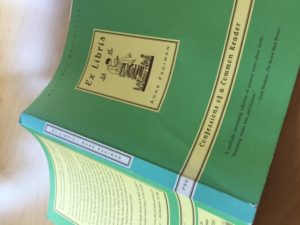 In it are eighteen delightful essays about reading, about books, about personal libraries and about words by someone who is, I would say, an entirely un-common reader. Fadiman is the kind of person you see walking on the street devouring a book open in front of her. Her taste for reading was nurtured by her academic parents in a household stuffed to bursting with books. Her own writing is scholarly without being snobbish, a situation ripe for incidental learning. The book is full of factual tidbits so seamlessly incorporated into its text that I come away feeling as though I could hold my own at an English Department dinner party. The tone is friendly and confiding. Her vocabulary is vast and slants Victorian, which, to my mind, is an asset.
My copy of Fadiman's book is slightly ruined in my own library – a little warped from moisture, a little dog-eared, and not without considerable underlining and marginalia. Her essay, "Never Do That to a Book" issues a solid approval of all of my mishandling of her work. She writes of her childhood in which she used her father's books as building blocks and how her own children do the same with hers. She writes of people who eat books, literally digesting the words, and her own son's consumption of the corners of Good Night Moon. It occurs to me that for Fadiman, the rating system for used books employed by on-line purveyors is entirely backwards. A five-star book condition for her would mean a book was stuffed with notations and worn pages and a "like new" book would not interest her at all. Her essay about inscriptions in books has left me changed forever. Never again will I just dash one off.
It is difficult to choose an essay to highlight. I love them all. Like all the best personal essays, each one touches the universal. We are not just reading about reading; we are reading about life and death, marriage and parenting, love and loss. Her description of the process that she and her equally bookish husband undertook to marry their libraries  describes both a marriage and a library for the ages. In a later essay, she explains how, after inheriting part of her father's library, she kept it in separate book shelves at first and then changed her mind. Integrating his library into hers becomes a testament to how the people we love and lose become indistinguishable parts of our own lives. It is deeply reassuring.
If I had to choose a favourite, "Nothing New Under the Sun" might make the cut. It is a sly investigation into plagiarism that should be read by every teacher and every writer everywhere. The footnotes are screamingly funny. I would love to plagiarize it, but I won't.
I remember exactly how I came to be in possession of this book. It was a gift from a dear friend, Arlette Zinck, a kindred spirit in reading, and I hope I thanked her appropriately at the time. If not, I do so again.
Lastly, as if these essays weren't enough, Fadiman's final pages include recommended reading (of course) – a bibliography of other books about books. It is marvelous.
Give yourself a treat and buy a copy, preferably from a dust-mote filled used bookstore, and curl up under a blanket. Lay it down, open and upside down, on your bedside table, pages splayed and dog-eared.
Fadiman, Anne. Ex Libris. New York: Farrar, Straus and Giroux, 1998.