Same As It Ever Was: Anti-Choice Extremism and the Third Way in Without Apology: Writings About Abortion in Canada, Shannon Stettner, Ed. 2016. Athabasca University Press.   
I think of this as the last thing I will write on abortion, but never say never. It felt like the culmination of decades of thought. I wrote it in 2012 or 2013 in response to a call for submissions. I had been thinking a great deal about how the anti-choice folk were taking over the language of the left, the language of social justice and human rights, and twisting it to suit their purposes. This was an awful piece to write on so many levels. The research depressed me. The peer review process was incredibly demanding, but also very good for me. It forced me to make the piece better and better. The good part of this project was working with Shannon Stettner, who is a wonderful editor.
The Tories' maternal health initiative is the mother of bad policy. Globe and Mail, April 28, 2010, p. A15.
I've been involved in the reproductive rights movement for decades and also taught Women's Health when I was a Women's Studies Instructor at Mount Royal College (now a University) in Calgary, Alberta. I had a particular interest in this policy. Unfortunately, all efforts to change the mind of this particularly intransigent and right leaning government failed.
The Diagnosis that Changed My Life, Globe and Mail, Facts and Arguments, January 8, 2010.
It's not that I was exactly sorry when this was printed, (after all, I'm the one who sent it out) but I wasn't entirely pleased either. Of all the things I've written, this probably got the largest response. It was gut wrenching to write so personally. The bad part was that the Globe and Mail changed the title. I had never wanted it to be just another cancer narrative. But that is how it was taken up. It was originally called "The Next Minute," as in, you're sitting in the doctor's office ticked off because you're running late and you're wondering about the work on your desk and what to have for dinner and on and on and then the next minute, your life is completely changed. As Joan Didion says, "Life changes in the instant." Forever. It happens all the time. This essay is about one of those times. I was also testing out what it felt like to lay my personal life out on a national stage. I think it was a good lesson. You never know how readers are going to read something. People read in what they want it to say, and that is not always the same as the writer's intention. People seem to want the battle and bravery narrative of cancer. I find it loathsome. I've written another essay on this topic that was short listed for the PRISM International creative non-fiction prize in 2007, but remains unpublished.
Happily, this piece is going to be published again in an upcoming anthology about waiting. It will go back to it's original title, "The Next Minute," and it's original context. I thank Rona Altrows and Julie Sedivy for accepting the piece and giving it a second life.
Dumpster Thriving. Legacy, Winter 2008, pp. 62-64.
Legacy was a great Alberta magazine that bit the dust not long after I published this piece in it. I don't think there is a causal relationship. Calgary is a boom town, and this piece was about waste and consumerism. In 2016 as Calgary is deep into another bust, the piece has resonance again for me.
'Nurture the future' Author and Activist says nuclear power the wrong answer forAlberta. FFWD, October 2, 2008, p. 14.
I get interested in things and I am interested in the nuclear power debate in Alberta and everywhere. I am also a huge admirer of Helen Caldicott, so when the opportunity came up to meet her and present her ideas, I was all over it.
Business Class Health Care. CBC Commentary, July 19, 2005
The CBC used to have this segment called "Commentary" which was an opportunity for people to express their ideas in about two minutes. Not anymore. Too bad.
The never-ending debate on how health care should be managed in Canada needed a few more words in it from me.
Dissent and Democracy. CBC Commentary, May 4, 2004
This was about going to the March for Women's Lives in Washington DC in 2004, an incredible experience and by far, the largest action I have ever taken part in. We were there as Canadians and members of Planned Parenthood Alberta to support our American sisters.
I love being on the radio. I think I may have missed my calling.
Where fear and hope collide:  Alanna Mitchell sees reason for optimism in survey of environmental trouble. FFWD, June 24, 2004. p. 20.
Alanna Mitchell is one of Canada's greatest science writers and again, having the opportunity to speak to her about her ideas was a great experience. Her latest book, Sea Sick, is also exceptional.
Check up on choice:  Abortion could be a sleeper election issue. FFWD, June 3, 2004
This was an article written in part from my ongoing activism in reproductive rights issues.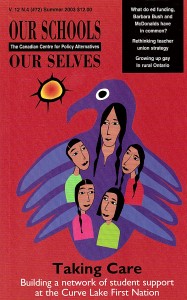 What do Education Funding, Barbara Bush and McDonalds have in Common?  Our Schools/Our Selves, Vol. 12, No. 4, Summer 2003, pp. 77-80.
I was furious when I wrote this. Absolutely furious. It shows.
The Mazankowski Report from a Women's Health Perspective.  Edmonton: Parkland Institute, April 24, 2002.
I had been teaching Women's Health at Mount Royal College and a new report came out, again trying to revamp the health care system. Parkland is a public interest think tank interested in such things. The Mazankowski Report was an attempt to put more privatization into the public health care system. In this essay, I demonstrate that this would be done on the backs of women's unpaid and underpaid work.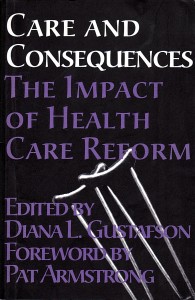 Obscuring a Crisis:  The Obstetricians' and Gynecologists' Job Action and Maternal Care in Alberta, in Care and Consequences: The Impact of Health Care Reform, Diana L. Gustafson Ed.  2000. Halifax:  Fernwood.  pp. 107-126.
Diana Gustafson is a wonderful editor and I was delighted to contribute to this book about health care reform. This article is about a job action undertaken by the province's obstetricians and gynecologists and the impact this had on pregnant women at the time. Research introduced me to the province's midwives, which was an eye opening and thoroughly rewarding experience.
Assessing New Reproductive and Genetic Technology As If Children Mattered. Canadian Bioethics Newsletter, Vol. 5, No. 2, August 2000
A follow up piece to my Master's project. I try to look at public policy issues as though women and children matter, actually matter, not just in words but in fact. When I do that, it is amazing how different policy looks.
Risky Business: Rethinking the Social and Ecological Impact of Biotechnology. Environments A Journal of Interdisciplinary Studies.  University of Waterloo. Vol. 28, No. 2, 2000.  pp. 63-73.
Dr. Margrit Eichler ran a wonderfully wide-ranging seminar in Special Topics in Sociology of Education at the Ontario Institute for Studies in Education and each member of our class contributed an article to this issue of Environments. Dr. Eichler is an excellent teacher. Of the many things she taught me, I will share two here. When my Master's project was finished, but I was still tinkering with it, Margrit told me, "Writing is never finished. You decide when you are done. A good sign is when you become bored with it." Words to live by. She also said to me, "You don't have to be in school to write."